Hybrid thruster combines the benefits of ion and vapor to dramatically extend satellites' useful years and mitigate space debris.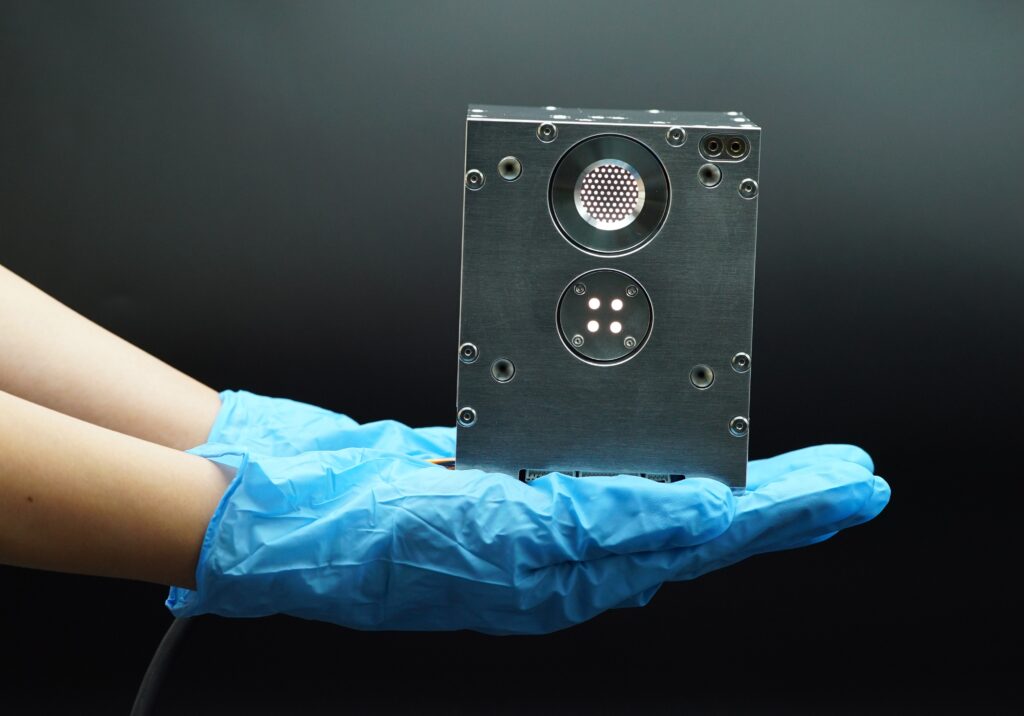 Las Vegas (Dec. 27, 2022) – At CES® Unveiled (Jan. 3), CES 2023 (Jan. 5-8) and ShowStoppers® (Jan. 5), Pale Blue, a Japanese space tech startup, will showcase "PBI-HY-40," a ultra-compact thruster that uses less than 250ml of water as propellant to keep nano-satellites in their orbits, dramatically extending their useful years in space and mitigating space debris. In-space application of conventional water-based propulsion systems was very limited use due to the low propellant efficiency and the quantity of water needed to generate steam. Pale Blue's patented electron cyclotron resonance (ECR) technology enables the hybrid thruster to extract ions out of water on demand, combining ion's excellence in propellant efficiency with the high thrust power of steam.
Designed specifically for CubeSats (minimum size: 10 x 10 x 10 cm) up to satellites of 500 kg, Pale Blue Water Hybrid Thruster can extend what normally are 1-3 year lifespans to 3-5 years or longer, guiding them back to Earth in the end to prevent them from becoming space debris. Use of water as propellant in lieu of toxic materials also makes the satellites' production significantly safer.
"Nano-satellites prematurely lose their usefulness and become space debris simply because they didn't have engines to freely move around in space. Our technology enables installation on nano-satellites by providing inexpensive, low-power propulsion and efficiently harvesting energy from a small amount of water – a clean, relatively inexpensive and abundant natural resource," Pale Blue Co-founder & CEO Jun Asakawa said. "By replacing the incredibly toxic propellants like hydrazine with water, we can make space far more accessible to humans. We are thrilled to introduce this truly sustainable propulsion technology at CES 2023."
PALE BLUE EXHIBITS
Jan. 3 (5:00-8:30 p.m.) – CES Unveiled (Booth #332, Mandalay Bay)
Jan. 5 (6-10 p.m.) – ShowStoppers (Bellagio Hotel, Grand Ballroom)
Jan. 5-8 – CES 2023 (Booth #62201, Japan Pavilion @Eureka Park)
Press Kit: https://drive.google.com/drive/folders/10YgTSpYdLclm8ubv2HE3L03rsuhKEFvu
Video: https://youtu.be/x4pUQr-5aYU
Features & Technology
Culminating decades of research by the University of Tokyo, Pale Blue's patented Electron Cyclotron Resonance (ECR) technology enables on-demand generation of water plasma to fuel nano-satellites via a miniature mechanism that doesn't sacrifice strictly restricted envelope and power. Our envisioned use of the technology for in-space water refueling can potentially extend the useful lifespans of nano-satellites even further.
PBI-HY-40 Specs
90 x 120 x 160 mm (dimension); 40 W (power input); 85 Ns | 735 Ns (total impulse); 4.0 mN | 150 μN (thrust); 60 s | 500 s (specific impulse)
About Pale Blue
Pale Blue is a space startup from the University of Tokyo founded in 2020. The company is dedicated to thrusters innovation for small satellites that use water as a propellant. Through its water-based propulsion technology, Pale Blue aims to develop a space ecosystem where in-space mobility is not only affordable but completely safe to both humans and the surrounding environment.
For more info: https://pale-blue.co.jp
About 'Japan (J-Startup) Pavilion @Eureka Park'
Presented by the Japan External Trade Organization (JETRO), the "Japan (J-Startup) Pavilion @Eureka Park" brings together the country's innovative startups with proprietary leading-edge technologies. At CES 2023, the pavilion will feature 36 companies in industries ranging from AI to robotics, space to mobility, among others. For additional info about JETRO: https://www.jetro.go.jp/en/
About CES®
CES® is one of the world's largest technology trade shows held annually in Las Vegas. Bringing together 2,279 exhibitors and 84,500 attendees between Las Vegas and online venues at CES 2022, the event is billed as the "proving ground for breakthrough technologies and global innovators." At CES 2020 held prior to the COVID-19 pandemic, 4,600 companies showcased 20,000 products and services.
Contact
Emily Okuhara, Manager of Marketing & Communications of Pale Blue
Email: e.okuhara@pale-blue.co.jp