Pale Blue's KIR Thruster to launch on October 12, 2022
KIR Thruster will represent the world's first Water Hybrid Thruster in space
LIVE streaming URL for the launch: https://youtu.be/Blai5oZQtFs
Pale Blue's KIR Thruster is scheduled for launch from Uchinoura Space Center in Kagoshima Prefecture, Japan between 9:50 to 9:55 a.m. on October 12, 2022 (Japan Standard Time).
This will be the world's first space demonstration of an integrated water-based propulsion system (integrating water resistojet and water ion thruster), and is expected to revolutionize the way nano-satellites are used around the world as one thruster module can offer high thrust and high specific impulse modes.
Based on this first space demonstration, Pale Blue will enhance its global competitiveness and expand the technology to small satellite manufacturers.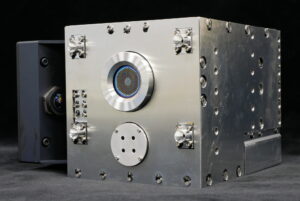 About the Innovative Satellite Technology Demonstration-3: https://www.kenkai.jaxa.jp/eng/research/innovative/innovative.html
About the KIR Thruster: https://www.kenkai.jaxa.jp/kakushin/interview/03/interview03_06.html (Japanese)
The KIR aims to enhance competitiveness by conducting an on-orbit demonstration of a micro integrated propulsion system that integrates two types of propulsion systems (resistojet thruster and ion thruster) using water as propellant into a single component.
JAXA's Press Release – The launch of the Epsilon-6 with Innovative Satellite Technology Demonstration-3, QPS-SAR-3 and QPS-SAR-4:
https://www.jaxa.jp/press/2022/10/20221010-1_j.html (Japanese)
Contact
Emily Okuhara, Marketing & Communications of Pale Blue
Email: pr@pale-blue.co.jp